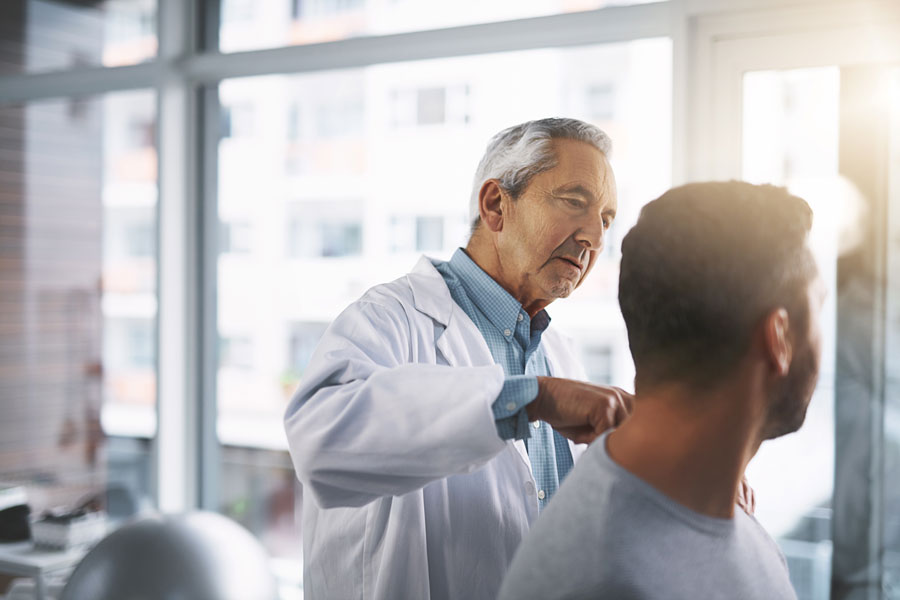 07 October 2014 Shoulder injuries are a cause of discomfort and pain for many people. The reasons behind shoulder injuries vary but usually are a result of loss of elasticity in joints and flexibility in the elderly or trauma in younger people. Athletes suffer...
Strong, flexible and surprisingly fragile, our shoulder and elbow joints control the movements of our arms throughout our day. Problems with these upper extremity areas disrupt daily activities at home, at work and on the field and interfere with quality of life.
The shoulder joint is a ball and socket between the scapula and the humerus connecting the upper limb to the trunk and is one of the most mobile joints in the body. The hinged elbow joint is where the two bones of the forearm—the radius and the ulna—meet the humerus and is especially susceptible to stress injuries. 
According to the American Association of Orthopaedic Surgeons, 7.5 million people go to the doctor for shoulder and arm pain each year. Sports injury, repetitive use and rheumatoid conditions can all cause pain, stiffness and loss of function in the elbow and shoulder. Common concerns and conditions include:
Arthritis

Shoulder. All types of shoulder arthritis involve pain and limited range of motion at the site of the joint.

Elbow. Arthritis in the elbow is caused by injury to the joint's cartilage, by wear-and-tear, or damage from a previous injury.

Bursitis. Bursa are tiny, fluid filled sacs that reduce friction between tissue located near large joints in the body. When they become inflamed, they cause pain, tenderness and swelling.

Cartilage injuries. The connective tissue between joints can be damaged by wear and tear, a direct blow or lack of movement, causing inflammation, stiffness and limited mobility.

Fractures and dislocations. Shoulder and elbow fractures and dislocations require immediate care and typically occur because of a fall, accident or sports injury. Treatment will depend on the severity and type of fracture.

Frozen shoulder. Characterized by stiffness and pain in the shoulder joint, this condition is caused by thickened connective tissue and progresses over time.

Repetitive motion injuries. The majority of sports injuries seen by doctors are caused by simple actions done over and over. Examples of repetitive motion injuries include tendinitis and bursitis.

Rotator cuff injuries. The muscles and tendons that surround the shoulder joint are commonly injured in people older than 40, athletes using repetitive arm motions, or people using repetitive overhead motions.

Sprain. A sprain is a pulling or tear of the ligaments, the tough bands of fibrous tissue that connect bones around the joints, causing bruising, redness, warmth and pain.

Strains. A strain is a tear in the fibers of a muscle or a tendon. 

Tendonitis. Stress on the elbows and shoulders can inflame the tendons that connect the muscles to bone, causing pain, stiffness, tenderness and mild swelling.

Tennis elbow. This repetitive injury occurs from sports as well as activities that overload the tendons connecting the wrist and arm, such as physical labor, making it painful to grip objects.
LEFT UNTREATED, PAIN CAN WORSEN OVER TIME, SO IT'S IMPORTANT TO SEEK CARE FOR ELBOW AND SHOULDER CONDITIONS. IN MOST CASES, THE FIRST COURSE OF TREATMENT WILL BE NONOPERATIVE OPTIONS SUCH AS REST, STEROID INJECTION, INTERVENTIONAL PAIN MANAGEMENT, AND REHABILITATION, WHICH INVOLVES A SERIES OF EXERCISES AND STRETCHES THAT OVER A PERIOD OF TIME SLOWLY STRENGTHEN THE SHOULDER AND HELP REGAIN RANGE OF MOTION.
Minimally invasive arthroscopic surgery is used wherever possible for faster recovery times, less pain and increased mobility. When needed, traditional "open" surgery procedures such as partial replacement and total shoulder replacement can help relieve pan and restore function.
Reach Out
If you're experiencing pain in your shoulders, arms or upper back, you shouldn't ignore it, since it can be a major indicator of many types of problems. Premier's shoulder specialists offer a full range of treatment options for shoulder pain and injuries.