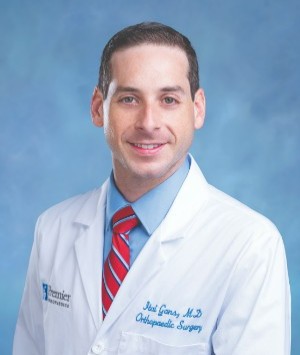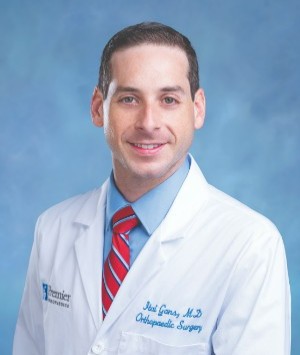 Pickleball is all the rage. Each day, more and more individuals, across all age groups are heading to the pickleball courts. With over 4.8 million participants nationwide in 2022, and 39.3% growth over the last two years, pickleball has become the fastest-growing...
Cartilage Restoration
Joint Preservation
Knee, Shoulder and Hip Arthroscopy
Patellofemoral Instability
Joint Replacement
Sports Medicine
Trauma & Fracture Care
Undergraduate — Pennsylvania State University
M.D. — University of Pennsylvania School of Medicine
Residency — Johns Hopkins Orthopaedic Surgery Residency Program
Fellowship in Sports Medicine, Cartilage Restoration, and Pediatric/Adolescent Sports Medicine — University of Pennsylvania and affiliated Children's Hospital of Philadelphia program
Research Fellowship — Benjamin Fox Orthopaedic Research Fellowship at the Children's Hospital of Philadelphia 
American Board of Orthopaedic Surgeons — Board-Eligible
Matrix-induced Autologous Chondrocyte Implantation (MACI)-Certified
American Academy of Orthopaedic Surgeons
American Orthopaedic Society for Sports Medicine
Arthroscopy Association of North America
Philadelphia Orthopaedic Society for Sports Medicine
Dr. Gans is the head team physician for Coatesville High School athletics. Dr. Gans was a high-level competitive gymnast and national champion competitive kite flyer. He served as the assistant team physician for the University of Pennsylvania NCAA football, wrestling and gymnastics teams; University of the Sciences NCAA athletics department, and the Bonner-Prendergast Catholic High School football team.
In his free time, Dr. Gans enjoys cycling, rock climbing, and boating and cruising in the Chesapeake Bay. 
Dr. Gans is the Director of Cartilage Restoration and Joint Preservation and is a clinical specialist focusing on sports injuries and arthroscopy of the hip, knee and shoulder. He has special interests in regenerative medicine, cartilage transplantation and restoration (Autologous Chondrocyte Implantation [ACI], Osteochondral Autogrant Transplant, Osteochondral Allograft Transplantation, microfracture, and chondroplasty), and meniscal transplant procedures.
He has keen interest in ACL reconstruction, complex ligament reconstructions of the knee, advanced knee arthroscopy, meniscus tears, patella instability/dislocation, patellofemoral malalignment/instability, and shoulder instability. His clinical specialties also include rotator cuff repair and superior capsular reconstruction, pediatric knee, shoulder, and ankle arthroscopy, pediatric ACL reconstruction (including special training in growth plate preserving techniques), and treatment of osteoarthritis of the knee, hip, and shoulder.
Dr. Gans has written numerous scientific articles in several peer reviewed journals, presented many lectures and poster abstracts at national meetings, and written several chapters in textbooks on a variety of topics related to orthopaedics and sports medicine.  
During his residency, Dr. Gans' complex research earned an Orthopaedic Research Education Foundation Resident Research Project Grant Award. He enjoys teaching students, residents, and his patients, and takes great pride in helping patients achieve great clinical outcomes.