Running Sneakers - Do They Matter?
15 March 2017
Christopher R. Hood JR, DPM
Foot and Ankle Surgery
Premier Orthopaedic and Sports Medicine
When asked for sneaker recommendations, I am often left at a loss as to how to respond to a patient. There are so many sneakers on the market from multiple brands stating various advantages over not just their competitors, but over models with a brands own line. Asics alone makes over 15 types of running sneakers, with additional sneakers for trail and walking situations. There are, however, a few points I give patients when trying to determine what is right for them and how to approach shopping for a new pair of sneakers.
1. Foot Type:
One area where the doctor can help is by determining your foot-type or gait pattern. Additionally, a good running store will also provide the same assistance in helping to determine this. While there, the salesperson will watch you walk or run, sometimes on a treadmill, in the store. From this, recommendations will be made based on your foot type and gait pattern for the correct style of sneaker. The salesperson will have the knowledge of their inventory and the most appropriate sneaker(s) for you.
Foot type or gait patterns mainly consist of people who pronate, have normal arches/foot (neutral), or supinate. (Fig. 1)
Pronators – Flat-footed people tend to gravitate to a higher stability sneaker, as they help prevent pronation or overpronation. Seeing a physician can be important in patients with flat feet as sometimes the cause of the condition is due to an abnormal fusion of two bones in the rearfoot that do not separate during adolescence.
Neutral – Neutral runners can often run in many types of footwear, but most commonly go for a moderate stability sneaker.
Supinators – Runners with high arches are best suited for a cushioned sneaker, providing midsole padding with flexibility and shock-absorption.
As a result of the variety of foot shapes, sneaker companies have developed models to accommodate runners of all strides. In the selection process, be sure to align your foot type with the proper category. With so many shoes on the market, the specialists at the store should have the knowledge of the product lines and correct sneaker for you.
2. Type of Sneaker:
One thing to consider when buying sneakers is determining what their primary purpose is. Are they for strictly running, walking, cross-training, court-sports, trail running, or everyday support? There is a difference in sneakers made for these different activities. For example, running sneakers tend to be lighter, have more sole cushion and shock-absorption characteristics, and are made to run in a mainly straight direction. They also tend to have a deeper heel cup to control the foot during the act of running. Walking sneakers tend to have less sole cushion/shock-absorption since the foot-ground impact is not as great as seen in runners. Cross-trainers and court sneakers (i.e. tennis, basketball) tend to be heavier, have more heel support and a wider base for side-side movement activities, have a thicker and stiffer sole that bends less, and greater tread patterns compared to running sneakers. Furthermore, if you are a runner, consider the surface you run on sneakers, for pavement/roads versus trails have some differences.
3. Shoe Structure:
Whether shopping in a running store or a general department/sporting goods store, some things to look out for include:
Type of sneaker (running, cross-trainer, court sneaker) as previously discussed.
Torsion Test: Does the sneaker resist torsion (twisting of the sneaker)? There should be some, but not excessive, twisting of the sneaker to allow the foot to naturally pronate and supinate during activity.
Flex Test: Does the sneaker bend right at the toe bending level at the ball of the foot (the distal third level)? If this break level is more proximal (towards the center of the shoe or heel), it is not as stable and not as good for running. Runners want a sneaker that bends at the ball of the foot where it naturally does. (Fig. 2)
Can the insole liner be removed to accommodate additional over the counter or custom orthotics? If you wear orthotics, bring them with you to place in the sneakers you are considering to appreciate the fit.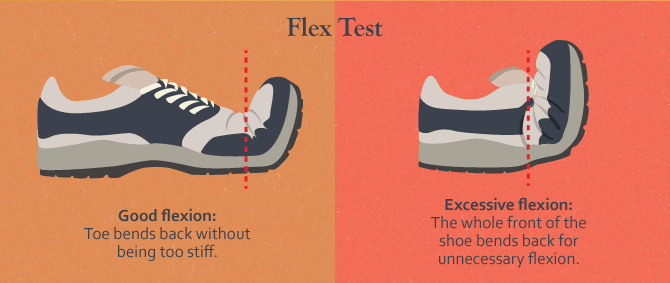 4. Brand:
I look to the literature and data to help determine these recommendations. When you examine the overall market share of running sneakers, Nike dominates. (Fig. 3) I feel this is in part to their diverse sneaker line across all sport/running needs and their use for both function and fashion. However, looking at the sneakers worn during the 2015 Boston Marathon, Nike only made up approximately 9% of sneakers with brands like Asics and Brooks dominating the field. (Fig. 4) Similar data trends were seen at the 2015 New York Marathon regarding brand choice.5
Some additional tips include:
Visit a local running store to have your gait analyzed based on your foot type and biomechanics. Additionally, discuss with the salesperson your running habits, what kind of runner you are, types of surfaces you will run on, etc. so they can pick the best sneaker for you.

Local stores include:

All Kinds of Fast, Phoenixville PA
Bryn Mawr Running, Bryn Mawr PA
Chester County Running Store, Pottstown PA & West Chester PA
North Wales Running Store, North Wales PA
Philadelphia Runner, multiple locations in Center City, University City, Glenn Mills, and Manayunk PA
The Running Place, Newtown Square PA
Valley Forge Running Co, Collegeville PA & Berwyn PA

Bring your old running sneakers with you. This gives the salesperson a clearer picture of your gait by analyzing the sneakers wear pattern from the sole to the upper-materials. (Fig. 5)
Bring your running socks to try on with the sneakers if you wear a special kind for running.
Consider the time of day when you make your purchase. Your feet swell naturally during the day and are slightly larger at the end of the day, giving you a more accurate picture of how the sneaker may fit when you run. Other recommendations include making sure you have a half to a full thumb's nail length from your big toe to the end of the shoe. This allows for accommodating some of the swelling and also prevents your toenails from jamming into the end of the sneaker, causing nail problems.
Try on multiple pairs of sneakers. Take a short run around the store to test the fit, function, and comfort before you make your final purchase.
Choose which feel is right for you and in a price range you are comfortable with. Just because it is the most expensive, does not mean it is the best and best for you. Average prices range from $70 - $90.6
To prevent injuries, replace your running sneakers every 300 to 400 miles depending on the surface that you run.
If you find a sneaker you like and are on the moderate to heavy level of activity (i.e. go through them quicker), I always recommend buying two pair. This way you can wear both in to make them last longer, and in case a model is discontinued or altered, you still have the sneaker that you like.
If you have any further questions about running sneakers, running pains or injuries, or any other foot and ankle issues, schedule an appointment with a foot and ankle specialist to discuss your treatment options. Your doctor will help you determine the best course of action for your situation.
Dr. Hood is a fellowship-trained foot and ankle surgeon. He sees patients out of the Malvern, Phoenixville, and Pottstown offices for Premier Orthopaedics and Sports Medicine. Follow him on Twitter at @crhoodjrdpm.
Image References: